Spawn #200
Jan 2011
This is the Liefeld cover that both Hunter R and I purchased. Well, Spawn is at its #200 and it celebrates with a 56-page special issue. If you have a comic book reader like CDisplay, check out the historic #200 here:
Spawn #200
. Check out the article in
Comic Book Resources
and an interview in
MTV Geek
.
The above are ten covers of #200, starting from the top right corner: Todd McFarlane (b/w), Jim Lee, Jim Lee (b/w), David Finch and Todd McFarlane and the bottom from the right: Rob Liefeld, Greg Capullo, Marc Silvestri, David Finch (b/w) and Ashley Wood
In this issue: A waging war erupts in the alleys of New York City between Freak, Clown, and Spawn. The unanticipated appearance from an Omega Spawn evens the scales. While Spawn appears to be helping Clown's cause, Clown takes Jim out the equation, so he can take on his true form - Violator. Freak reveals he's more than his exterior suggests, and in his blacked out state, Jim remembers a conversation he had with previous Spawn, Al Simmons. Jim is told he needs to "teach them a lesson," although he's unsure whom Al is referring to. Back in the alleys, Clown invokes the K7 Leetha on the Omega Spawn. The once powerful Omega Spawn is left limp, slain in the grips of the costume. Violator finally learns Malebolgia has returned to reclaim what's his, but must regain strength first. With his new knowledge, Clown takes an unsuspecting Jim underground to develop the next step in his master plan. Not expecting the twist that transpired that evening, Clown must now shift his strategy.
Spawn #201
Jan 2011
Will Carlton took over the writing and Szymon Kudranski the art. Everything looks so dark, so much so it reminds me of
Spawn the Dark Ages
.
In this issue: Jim appears as a guest on the Karlene Philips Show, where a call-in campaign proves unsuccessful in recovering information about his past. Later in the show, Jim is given the task of healing a boy with a rare disease. A reluctant Jim is moved by the boy's mother's plea, and heals the once mute child. For the first time, Jim feels like he's using his powers for good. Earlier that morning, an overzealous police officer reroutes Jim to a known felon's apartment to settle some business. Urging Jim to stay in the car, the officer pays a visit to the felon, who ends up being his ally. An inquisitive Jim walks in on the two arguing over the delivery of a briefcase, and new villian Bludd intervenes. He reveals the briefcase holds answers to Jim's past, and he intends on keeping it until he's able to control Spawn and his powers.
Guarding the Globe #3
Jan 2011
3rd in this mini-series of 6 issues. Spawn appeared in Guardian Gags by Chris Giarrusso.
Spawn #202
Feb 2011
The character development of Jim Downing continues and it looks like he is emerging to be a much more complex character as compared to Al Simmons.
In this issue: After healing a terminally crippled child, Jim's celebrity status skyrockets, and his career as a modern day messiah begins. Across town, Twitch remains at Sam's bedside as he struggles with his failing health. Feeling responsible for the mishap, Twitch recruits Detective Rowand to investigate the supernatural elements linked to Sam's condition. Detective Rowan reveals his suspicions about Jim's involvement in the confusing chain of events leading up to Sam's heart attack. A nurse, who's not who she appears to be, puts Sam's life at an even greater risk. Taking on the arduous role as Jim's manager, Marc works tirelessly to secure countless interviews at the expense of time with his girlfriend, Susan. Neglected, Susan finds comfort in Jim's arms - and bed. Due to his newfound celebrity status, Jim is asked to become spokesperson for a high-powered New York corporation but bails when he finds Bludd at the helm of the organisation. An altercation ensues, and Jim leaves with a briefcase, said to have information about his past inside. After the less than positive exchange, Bludd and Clown evaluate the level at which they can control him. Jim reviews the sparse contents of the briefcase to discover only one piece to his puzzled past - he's married.
Spawn #203
Feb 2011
A Spawn issue where the Spawn failed to make an appearance. Lots of yakking but I guess that is what is now known as character development. And have I complained and grumbled about how dark Spawn is becoming? Look at the above image, I bet you thought it is a smudge of black paint.
In this issue: After learning he could potentially be married, Jim rushes to the aid of Sara, who is being bombarded by paparazzi. In his absence, he assigns March to locate "his wife". Meanwhile, in Minsk, Belarus Malebolgia begins collecting what is rightfully his. And in another part of town, Clown enlists the help of the Old Guard to "test" Jim and the costume's abilities. In an attempt to evade the paparazzi, Jim and Sara get caught in a swarm of photographers. In all the chaos, an unfortunate bus accident occurs, and Jim is plagued with the decision to save the life of the dying man who harassed Sara.
Spawn: Architects of Fear
Feb 2011
Graphic novel by Arthur Claire and Aleksi Briclot. Spawn: Architects of Fear has been floated around for eons. It was mentioned as far back as 2004 (in his
aleksi myspace page
, you can see illustrations of this book dated October 2004) but finally see the light of days in 2011. The art was beautiful, I am completely awe-struck, more graphic novels please.
Spawn #204
Mar 2011
More character development and the Old Guards...sigh, really? More yakking is good?
In this issue: Sara pleads with a reluctant Jim to save the injured photographer. After agreeing to do so for Sara, Jim miraculously heals him, and chaos ensues. Jim and Sara take off into the alleys to escape the madness. Sara wants answers that Jim just doesn't have. However, he asks her to trust him, and transports her back to her apartment. As the Old Guard watches on, they realise they might be dealing with a much different animal than originally anticipated. Marc continues fielding calls for Jim's interviews, and tries to sort through Jim's unexplainable past. His girlfriend, Susan, makes it clear she's aggravated with the amount of time he spends paying attention to Jim and not her. Frustrated, Jim makes his way back to the alleys, where he meets up with Clown. Although Clown once thought they should stay underground, he encourages Jim to step out into the limelight, away from Heaven and Hell's grips. While Clow thought he had control of the Old Guard, Bludd proves Clown otherwise, by asking them to do some tests of his own on Spawn.
Spawn #205
Mar 2011
Finally, a fight between the Old Guards and Spawn with the Old Guards starting the fight with a checklist. It's like a Chinese kung-fu movie, where the exponents test each other with the simplest move before escalating the conflicts, all the while producing new and deadlier moves.
In this issue: Jim's unexplainable act of heroism goes viral worldwide, and he flees to the only place that makes sense to him - the alleys. The Old Guard finds him at the throne, and a battle erupts. Back at Marc's apartment, Marc and Susan field calls from various media outlets looking to book Jim. However, the duo becomes increasingly worried since both he and Sara seem to have disappeared. In an obscure part of Mexico, Malebolgia, dressed as a cleaned up Freak, collects another piece from a willing participant. While Malebolgia's plan picks up speed, Clown and Bludd conspire over their strategy to take over the Spawn costume. And the Old Guard reveals why they're a feared entity.
Guarding the Globe #4
Mar 2011
And continuing my favourite part of Guarding the Globe mini-series.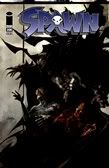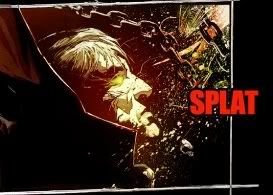 Spawn #206
Apr 2011
In this issue: The Old Guard begins their series of tests to determine the strength of the new Spawn's powers. Jim proves that he's quite the force to be reckoned with. Meanwhile, the citywide manhunt for Jim continues, and Detective Rowand questions Jim's motives. As word of Jim's healing ability travels, his celebrity status increases, and Marc tries to capitalize on it as much as possible. However, a mysterious connection to the Vatican could put an unexpected kink in his plans. Back in the alleys, Twitch goes searching for Al, only to find an infuriated Jim in his place. Their exchange leads to a standoff, but little does Twitch knows what he's in for.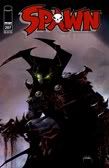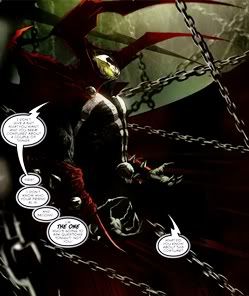 Spawn #207
May 2011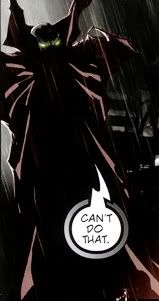 Spawn #208
Jun 2011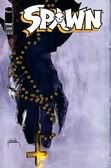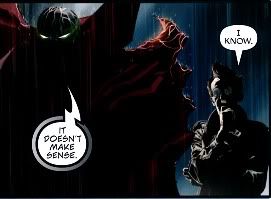 Spawn #209
Jul 2011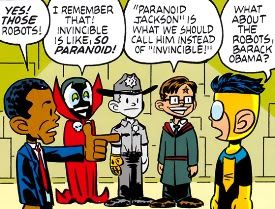 Guarding the Globe #5
Jul 2011
In this issue, the illustrator opts for the best way to draw Spawn - every single panel that Spawn appears in has him enveloped in his cloak.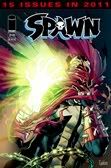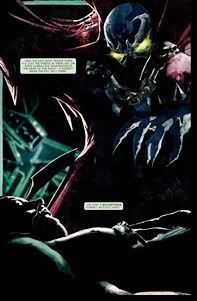 Spawn #210
Aug 2011
Spawn #211
Sep 2011