Spawn hits a milestone with #100 in November; one spinoff gone and yet another spinoff appeared.
Spawn Annual Vol 2
Jan 2000
The second annual (and the last) -
Spawn Annual Volume 2 - Blood and Salvation
concentrates, of all characters on the story of Daniel Llanso.

The writings are yet again, by Alan McElroy but the illustration this time is by Ashley Wood.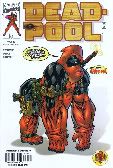 Deadpool Vol 1 #36
Jan 2000
Thanks to 'dan kane' from the spawn message board who brought this image of Deadpool in a Spawn costume up. In page 3, Deadpool was shopping for a suit - Spawn costume was among the rejects.
Spawn the Undead #9
Feb 2000
Spawn the Undead is Dead
- In February 2000,
Spawn the Undead
comes to a halt with #9.
Aria & Angela #1: Heavenly Creatures Part 1
Feb 2000
Written by Brian Holguin and illustrated by Jay Anacleto. Spawn mementoes won by Angela when she chalked up Hellspawns kill appeared on the cover and in p15.
The loveliest part about this comic book has to be the Army of Angels and their unique way of displaying their spawn trophies.
Sam and Twitch #9
Apr 2000
Shadows of Spawn: Spawn is not seen but we know it got to be Spawn because of the cape. Thanks to 'McF-disciple08' (spawn message board) for the assist.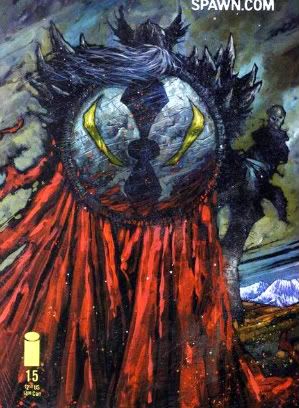 Spawn the Dark Ages #15
May 2000
Figures of Lord Covenant should include a cape as shown on this cover by Simon Davis. #15 also witnessed a new team: Steve Niles (writer) and Nat Jones (penciller).
Spawn the Dark Ages produced many wonderful arts for figurehood, one of my favourite is this Lord Covenant on his throne found in #15.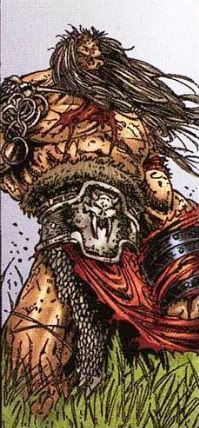 Spawn the Dark Ages #17
Jul 2000
Page 17 Art
Spawn #98
Aug 2000
Cyan clutching a Spawn doll - never did make it to the world of "action" figures. The cover of
#98
did, in a successful MTCC exclusive edition release.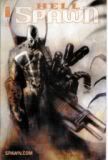 Hellspawn #1
Aug 2000
There was quite a fanfare for this spinoff as it is to be written by Brian Michael Bendis.
Hellspawn #1
predates Bendis' marvel career which obviously make him even better known but a lot of comic fans have already heard of him through his detective genre comics. Spawn is not Torso or Goldfish though. "It's a horror comic," said Bendis, "one that preys on people's fears. We're also going to clearly delineate what the war between Heaven and Hell really means. And we'll be using some familiar characters, but they will be multilayered and presented in a new way." - spawn.com June 7 2000 -
The fortune of Spawn has been on a downward spiral with uninspiring storylines in the main series, the collectible figures were uninteresting and the movie failed to come out with a sequel.
Hellspawn
thus created a much needed excitement. The story invokes quite a mixed response, which is never a good thing - loyal fans stayed loyal whilst new fans are utterly confused by the plot. Readers were invoked to read and re-read it an issue to gain understanding and I did but I thought it is pretty silly cos' it is the old tale of converting the already converted...we loyalists are staying put. Anyway, I would prefer another Hellspawn besides Simmon. The drawings by Ashley Wood on the other hand is really a matter of acquired taste.
Steve Niles took over with #6 and I thought the storyline starts to make more sense with a structure that comes across as more coherent, by then it is a forlorn rescue effort...And in the illustration department, Ben Templesmith became part of the drawing team in
#10
and officially took over the rein from Wood in
#11
. Sadly, the series ended in April 2003 with
#16
.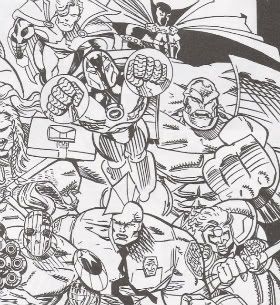 Vanguard: Ethereal Warriors
Aug 2000
Thanks to Colin ('murch' in Spawn Message Board) who shared his discovery of Spawn in this one-shot. The interior art is also provided by Colin and yes, it's b/w.
Aria & Angela: Heavenly Creatures Part 2
Oct 2000
Sadly, the only Spawn image is that of the logo on the cover.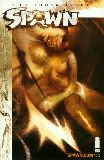 Spawn #100
Nov 2000
The 100th
- The 100th issue released in November 2000 features 6 different covers and here they are in alphabetical order of the artist's surname: Capullo, Mcfarlane, Mignola, Miller, Ross and Wood.
The synopsis: "While Wanda lies close to death, Spawn returns to the eighth level of Hell for a final showdown with a weakened Malebolgia. At the height of the conflict, Angela arrives to join in the battle. After mortally wounding Malebolgia and thinking him dead, Spawn and Angela prepare to escape; however, with his last breath, Malebolgia extracts Angela's lance and impales her with it. In a rage, Spawn decapitates Malebolgia with Angela's sword. Carrying Angela's lifeless body, Spawn delivers her to a host of angels who offer him forgiveness and redemption. He refuses this angelic pardon, but the angel who offers it can yet do one favor for Spawn: She appears in Wanda' hospital room and breathes new life into Wanda. Meanwhile, Spawn finally comes to terms with his place in the world."
Spawn the Dark Ages #21
Nov 2000
I like this cover by Ashley Wood, it is seriously scary and it would make a delightful figure.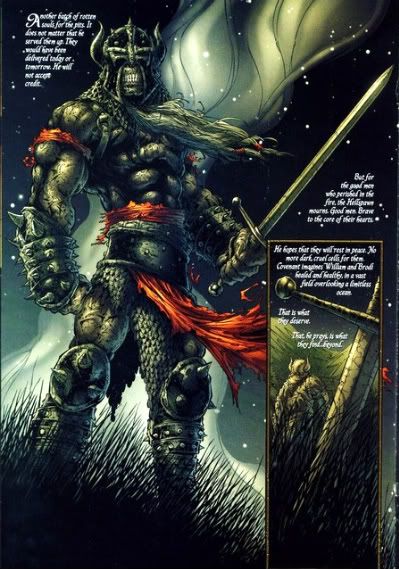 And continuing the quest for more Art of Spawn - page 16 model.