Curse of the Spawn #16
Jan 1998
In the early pages of
#16
, there is an appearance of another Hellspawn. A
nameless Hellspawn
who regards himself as the most powerful hellspawn.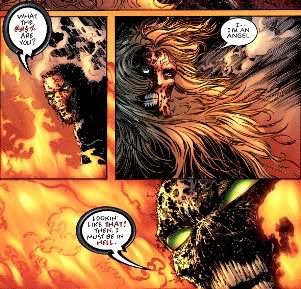 Al Simmons making a guest appearance (only his second in this spinoff series) as a new arrival in Hell.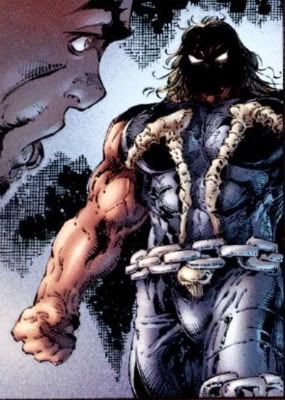 "During the arrival of Al Simmons, Abdiel is just about to attack Malebolgia when he is summoned back by Cheriour. Infuriated, he asks God if he is doing His will. With a resounding "NO" from God, he is cast into Hell, set up by Malebolgia." Synopsis from the official site of
Curse of the Spawn #16
from January 1998.
The last page of issue #16 shows
Abdiel
in a Spawn costume and although it is claimed that despite the symbiont, he is neither for heaven nor earth, it doesn't matter does it...he got the 'M' of Spawn...but not the rounded balloon that enveloped a speech that you see when a Spawn talks.
Curse of the Spawn #17
Feb 1998
This issue starts the three-issue story by Alan McElroy about Mafia boss, Antonio Twistelli. It has nothing to do with Spawn per se but for those who love the gossip rags, well these three issues were never published in both the two runs of Curse of the Spawn trade paperbacks due to the lawsuit initiated by Tony Twist, a former professional ice hockey player over the depiction of his name. The legal suit came to an end in 2007 when Twist accepts a $5m settlement, a far cry from the original $24.5m awarded to him by a jury in 2000.
Spawn: The Book of Souls
Feb 1998
The title is new but this February 1998's issue is almost an entire reprint of stuff from the
Spawn Bible
.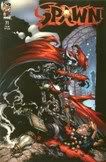 Spawn #71
Apr 1998
Please, this got to be made into a 2-Pack: "Spawn vs Wolfram the Vampire". The image is from page 19 of
Spawn #71
. This is also the issue that Brian Holguin shared writing credits with Todd McFarlane. Check out the larger images
here
.
Altered Image #1
Apr 1998
Jim Valentino penned this three-issue mini-series of superheroes and heroines from Image caught in a time warp and character alteration due to the power of a little girl's dream. The six characters involved are Mr Majestic, The Maxx, Savage Dragon, Shadowhawk, Spawn and Witchblade.
Total Eclipse One
Apr 1998
The image above is that of Daniel Llanso the Spawn. His second appearance after the initial four 4-issue storyarc of
Curse of the Spawn
.
A personal history of eclipse comics by Beau Smith. "
Total Eclipse One
was the new "Bible" for most of those Eclipse characters, Airboy, Skywolf, The Black Terror, The Heap, Valkyrie, Misery and others. Ted Adams, who was then VP of Entertainment of TMP and now-IDW Publishing President, and I, worked up a rather large publishing business plan for not only the Eclipse characters, but the Spawn characters as well. Under Todd's suggestions, we revamped the Eclipse characters for this new character bible. We then offered this book as a limited, direct market retail incentive (one of the first) for retailers. We published roughly 3,000 copies BUT, only 1,000 got stapled and produced as comic books. The other 2,000 were "guts", interior pages that we were going to eventually produce into comics and or use as company manuals for creators once the new publishing banner was established. That didn't happen. Todd's mind changed on producing more characters as well as some lawsuits that are now pretty common knowledge. Stuff happens.It doesn't change the fact that there were only 1,000 copies of
Total Eclipse One
produced and put into circulation. Most of the "guts issues" were thrown away, destroyed or are laying around in a box somewhere. As a side note,
Total Eclipse One
had a Miracleman "Easter Egg" placed in it. Besides the comic book being very rare, this also adds a little more rarity to its air. When you do find a copy of Total Eclipse One, you'll usually find it pretty cheap at around $2.50. This is because most folks don't realize what they have." Excerpt taken from
ComicsBulletin
.
Curse of the Spawn #20
May 1998
This story by Alan McElroy (illustrated by Dwayne Turner) in
Curse of the Spawn #20
(May 1998) is about the complicated and incestous world at Olympus. Zeus killed his father Cronus, a Titan and seized the throne. The King of Gods however learned that Cronus has another son named Raenius. Raenius was a boy living with the Centaurs when Zeus exterminated all of them. Malebolgia gives Raenius a chance at revenge, thus was born
Raenius the Hellspawn
. Together with Medusa and Zeus, Raenius the Hellspawn appeared in Series 13 (April 1999) as a collectible figure.
Spawn #73
Jun 1998
This is a cover waiting to be made into collectible figure - "The Heap vs Spawn", heck, subtitled it as The Heap vs Al Gore. For those who never did read
#73
, the Heap is made up of rubbish discarded by mankind.
Curse of the Spawn #21
Jun 1998
The conclusion to the two-issue arc about Raenius the Hellspawn.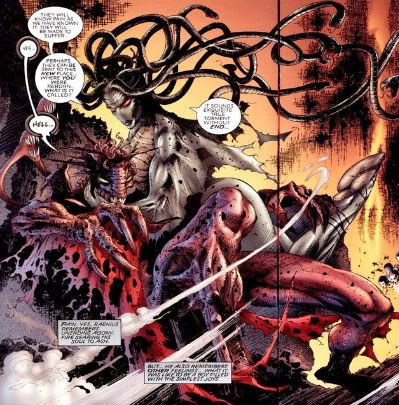 Raenius and his queen, Medusa get to enjoy the fruits of their labour.
Altered Image #2
Jun 1998
As the title suggest, the characters were altered continously: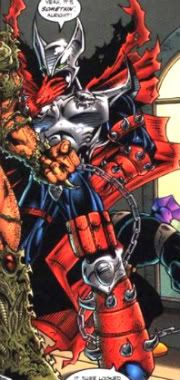 Savage Dragon becomes
Dragon Spawn
and Shadowhawk becomes
Shadow Spawn
.
And at the end of the issue , Valentino re-introduced Medieval Spawn. If you failed to keep score of his appearances, well, here's a review:
1. Spawn #9
Neil Gaiman created Medieval Spawn to show off the prowess of Angela
2. Spawn #14 and #15
The Clown told of his battle with the Medieval Spawn
3. Angela #1
Medieval Spawn is shown as a wall plaque in Angela's trophy room
4. Medieval Spawn Toy Comic
A happier Medieval Spawn
5. Medieval Spawn/Witchblade
A heartbroken Medieval Spawn
6. Spawn Bible
Medieval Spawn has a name, he is Sir John of York
7. Altered Image #2
A dreamscape appearance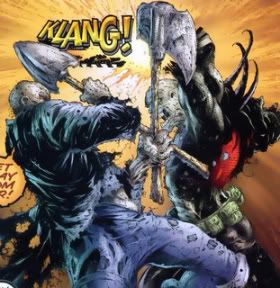 Curse of the Spawn #22
Jul 1998
This issue has the same kind of story that makes nerds love Spider-Man. A bespectacled and geeky looking Ryan Hatchett becomes a Zombie when he committed suicide. He met the Freak who knighted him Executioner of the Dead. Hatchett also fought
Zombie Spawn
because the latter wanted to eat his girlfriend, Suzette. Suzette who looks like a super-model is the girlfriend of Ryan Hatchett? Oh please. More of it in
Guide to Zombie Spawn
.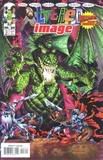 Altered Image #3
Aug 1998
In the final issue released in August 1998, as the six walked closer and closer to the dreamer, they kept transforming into other comic characters and I have yet to identify the following: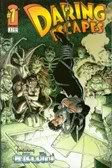 Daring Escapes #1
Sep 1998
This 4-issue series trace its origin from the 2-story arc of Harry Houdini and Spawn in #19 and #20. Written by Andy Grosberg and Tom Orzechowski and illustrated by Alan Weiss and Arthur Nichols, Spawn appeared in page 3 of the first issue during Houdini's recollection of his time spent with him.
Spawn #77
Oct 1998
Cogliostro stripping down to show Al Simmons the Spawn his "slave" marking in #77...
...and mentioned in passing the name of Spawn's more illustratious forebear:
Count Novia of Illyria
. Illyria is in today's western part of the Balkan peninsula. Incidentally, there is a famous Count of Illyria who would make a very appropriate Spawn given its theme of love loss: Orsino in Shakespeare's
Twelfth Night.
Curse of the Spawn #25
Oct 1998
In this 11th storyline of
Curse of the Spawn
, we were introduced to yet another nerd - Harley who is possessed by
Angel the Hellspawn
(he is on the cover), a very destructive Spawn indeed. How I wish that McFarlane Toys turn this ironically named character into a figure.
Sonic Super Special #7
4th Quarter 1998
Sonic of course refers to Sonic the Hedgehog and his friends that littered his comics - Knuckles and the Freedom Fighters. Sonic Super Special is published quarterly by Archie Comics, written by Ken Penders and illustrated by Jim Valentino. This is a crossover issue and thus the obligatory appearance of Spawn, Savage Dragon, Shadowhawk...etc. Besides the cover, Spawn also appeared in the centrespread plus TWO panels! This is a 48-page comics! Abysmal when you compared the panel counts racked up by Shadowhawk and Savage Dragon. His is the typical Spawn frequently portrayed in other crossovers, the guy with the perpetual constipated look - sour and humourless. Not many writers are able to bring this sourpuss character smoothly into their world, so it is not unusual to find him frequently passed over.